Journal Entry:
Thu Dec 29, 2011, 9:30 PM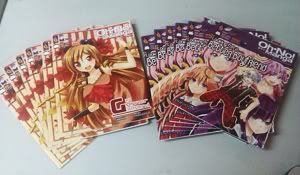 That's right~
Better Boyfriend
is now officially going to be published
in a monthly magazine here in our country! Uwaaa!!
I've never even dreamt of it, but it's real now.

---------------
ozine
event
---------------
Day 1: Thank you to everyone who bought our stuffs at our indie booth~~
to all whom I met(new and old), to everyone who commissioned me
and to those who waited patiently for the arrival of the official prologue
copies of bbf and ggf.
**Insert too many people to mention** XD Thank you!
special thanks to cosplayer Alodia for the customers,
her presence is like a magnet to them, customers. lol. : )))
VERY SPECIAL THANKS to our seller

The best seller in the world haha XD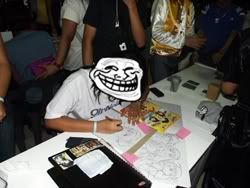 Problem?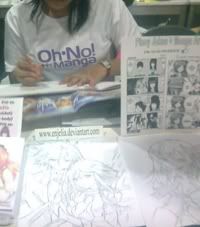 Thank you to everyone who commissioned me~!
And I'm sorry to those who got confused as to where I am,
I'm always seen in different locations. LAKAS SUMEGWAY haha.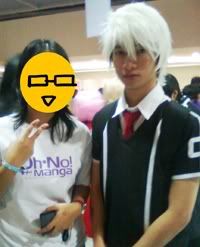 And and, thank you to kuya who cosplayed my OC, Jun~!!
**kachi kachi** XD
Day 2: A big big thanks to everyone who supported us,
and bought official copies of the titles at Ozine figure special~
to those whom I met(new and old),to those who commissioned me (morning),
And I'm sorry to those whom I cannot entertain their commissions anymore,
I'm really not feeling too well earlier (runny nose XDD)...

~
Thank you so much :">, had a great time~~ Til next event!!
Please wait for the next issue featuring "Coin & Flour" & "Inbox"!
By

&

We hope that you can support us @

!!
Let's re-live the Komik spirit in our country~~!!
GOD BLESS US~!
Merry Christmas and a happy new year everyone~!!
PS: Sorry my dear commissioners for the delay on my part~
I'll resume doing it now~






























Next Kiriban.. TBA!

RULES

1.) To give chance to others, previous winners are
not allowed to participate anymore
.
2.) ONLY THE FIRST sender will WIN.
I'll post the time difference for two possible winners.






























(Click the image)
(Click the image)






























Mood: Optimism
Reading: The world god only knows, Fairy Tail, Good Ending
Watching: Persona 4 The Animation, Guilty Crown
Playing: Rune Factory Tides of Destiny, Mortal Kombat